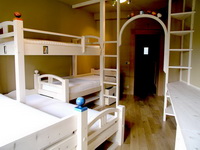 Room for Four Boys
Room with unusual shape, trapezoid with two round walls.
Special placement of beds created sleeping space, many drawers and shelves as well as lots of workspace.
Unusual space is well utilized with furniture that fits down to each detail.
Room for Children in Recreational Cottage
Attic room, 3 x 6m, for two girls and one boy. There was no need for solutions connected with school attendance, but there were significant age differences between the children (14/6/1..!).
Spacious Room for Two Schoolchildren
There were no limitations as to space, therefore creator's imagination could soar.
Rooms for Children
We newly separated this category of interior design from the others, because interior design for children is becoming a significant part of our studio's commissions. Rooms for children are special category of design, which surely deserves special attention.
You will find examples of unique non-traditional solutions serving the needs of children. Theme of rooms for children is very special, since it sets forth uniquely specific requirements to fulfill special needs. In all interiors presented here there was a need to address needs of multiple children of various ages and interests. For every one of these rooms for children there was some specific request, yet also freedom for original creative work. These commissions were created according to the wishes of the customers, yet also show unique style, playfulness and creativity. Same as with all other commissions, the designs of rooms for children by the Hajduch workshop are independent of fashions and are individual and never repeated designs.
Cradle
Room for Children in City Apartment
Commission request was as follows:
Room for three boys 25 square meters in size. Beds, desks, wardrobes, bookcase, and enough space for comfortable movement.
Bathroom for Children
Non-traditional solution for very small and diverse space. Cupboards are hanged on the ceiling, the floor is therefore free.
Small Room
Bed, desk, playing table, bookcase, wardrobe and toy shelf. All designed for a room of 14 square meters.
At the time of construction the boy was 4 years old. The design will be suitable for him for at least 10 more years.